Claus Fesel, member of the jury and Director Marketing at DATEV eG, added: "Yatta was chosen by the jury because the company showed the highest degree of technical innovation among all nominees. Moreover, their product UML Lab addresses a central problem of software engineering and shows substantial economic potential." This fits the idea behind the company's name. "Yatta" is Japanese and means: "We did it!"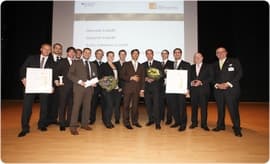 "We are thrilled about the award and want to thank everyone who has helped us to make this success possible – especially our team," said Johannes Jacop, managing director and co-founder of Yatta Solutions. The company will continue developing leading tools, technologies, and techniques to bolster efficiency in software development and is going to invest the prize money of 25,000 EUR in additional research and development.
Federal Minister Rösler is sure that
"modern information and communication technologies are central for our business location. They are instrumental in creating innovative products and services in most industries."
Yatta Solutions is sure to play its part in this process.
Further Information
The images from our press release are also available in print quality from press@yatta.de.