Our starting position and challenge for our softare product and modeling tool
After UML Lab's initial release in November 2010, the Yatta team took a moment to celebrate the milestone we'd been working toward. After a seed round with a VC—and nearly two years of development—we felt excited and optimistic.
In the beginning our product was very well received and reviewed by our customers and peers. But despite hundreds of warm leads, dozens of conference and company visits, and countless calls with users, software developers and enterprise decision makers, our efforts didn't generate enough sales.
By 2019, UML Lab's free trial had been downloaded tens of thousands of times, but the number of users converting to paying customers was a lot lower than it needed to be. We did not find the mysterious product-market fit, didn't reach sustainable contribution margins—let alone make enough profits to enable global scaling. In short: Bootstrapping the company and reinvesting heavily into our product seemed impossible.
In addition, UML Lab was beginning to feel cumbersome; we were spending more than we were making due to high development, maintenance and transaction costs (processing of payments, managing subscriptions and updating our EULAs to address enterprise customers in foreign jurisdictions, etc.). Instead, we would have preferred to invest in the reimplementation of UML Lab's frontend to migrate modeling into the cloud and provide a clean and updated user interface based on modern web/frontend technologies.
It was obvious that we needed to change something if we intended to continue our product business.
The sheer number of free trials, positive reviews and recommendations from our user base supported the thesis that UML Lab is a useful tool. Although definitely not feature-complete, we concluded that UML Lab wasn't lacking just functionality. The clues to the true culprit were hidden in our low conversion figures, and all pointed to the enterprise sales funnel. That's where our biggest lever for improvement was to be found.
Solution
Instead of throwing in the towel, we started looking for a way to improve UML Lab's sales and conversion figures.
Our priority was reducing friction for our users during the purchase flow as much as possible. Originally, when their trial expired, users had to submit a form on our website, get and agree to a price quote, then send us a payment before (finally) receiving their product key—via email. This meant changing the application environment and communication channel twice (from IDE to browser, then email and back again) when buying the product, not to mention the time-consuming back-and-forth.
We set our minds to enabling end users to purchase the tool directly in the IDE when their trial expired. Our intention was to not have to change communication channel or application environment when purchasing a software tool license. Although we couldn't be sure (most of our transactions were B2B), we were convinced that this would help us reduce the required user effort in making a purchase—thus leading to improved conversion rates.
The next bottleneck was our ordering, invoicing and payment—it slowed down the purchase process for B2B end users substantially. Instead, we intended to provide an Apple App Store-like user experience, enabling users to search, try, buy products with one simple click—and start using them immediately. So we decided to rebuild our licensing, invoicing and payment systems, as well.
And since we already tackled all this, we decided we might as well address all the other legal matters, such as the EULAs for selling developer tools—such as UML Lab—to customers. We knew from experience that software vendors often underestimate the effort and costs involved with legal terms, and their importance—especially in B2B. We also knew that handling each legal matter individually with our IT lawyers wouldn't scale for long—and was limiting our growth. So, we developed a legal toolbox for software products in consultation with our enterprise clients and in close cooperation with the major international law firm White & Case. Our intention was to find (and agree upon) fair and mutually beneficial legal templates for selling & purchasing software tools.
We wrapped up everything in a slick UI and provided an immersive, performant and streamlined user experience: From trial download to purchase and subscription, we made the purchase of our software tool product as easy and simple as it could possibly get. On our websites and within the Eclipse IDE—right at our end users' fingertips.
Yatta Checkout was born.
Results
When we migrated our online sales channels for UML Lab to Yatta Checkout on 16 March 2021, we didn't know what to expect. We had hopes—but we weren't seriously able to quantify the effects. The results were more than satisfying.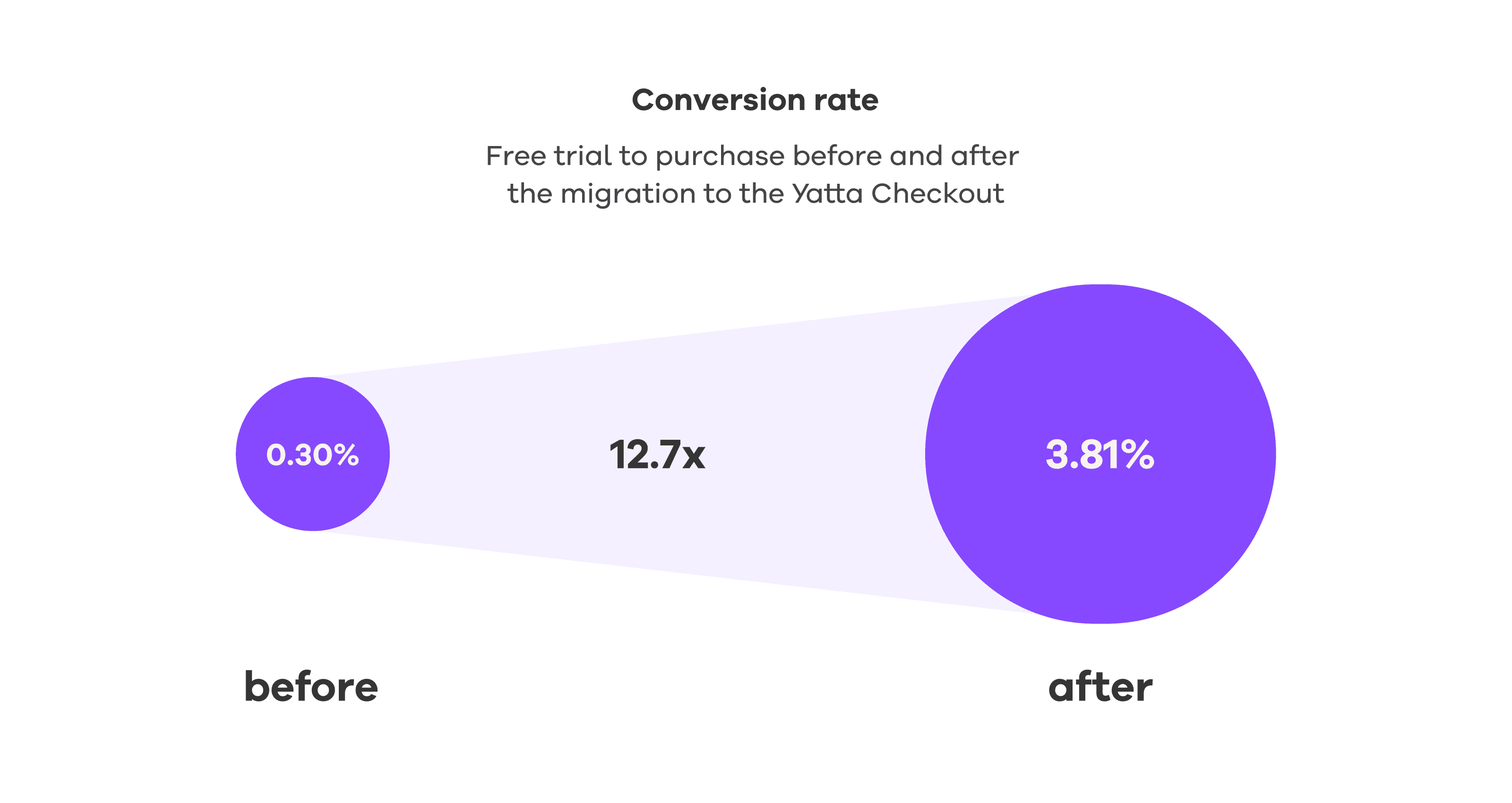 Our conversion rate from free trials to paying customers jumped from 0.30% to 3.81% over the first month—with the very same product and marketing (e.g., feature set, target groups, advertisements).
And by the end of the year, we had sold more than 12 times the number of licenses we sold the year before, thus increasing our product revenues by 10.6x—within a year.
At the same time, we reduced our user acquisition and administration costs by automating previously manual work. The Checkout automates user registration, enterprise invoicing and billing, taxation, licensing, payment collection, currency conversion, payouts, and much more, resulting in reduced manual work and fewer sources of error.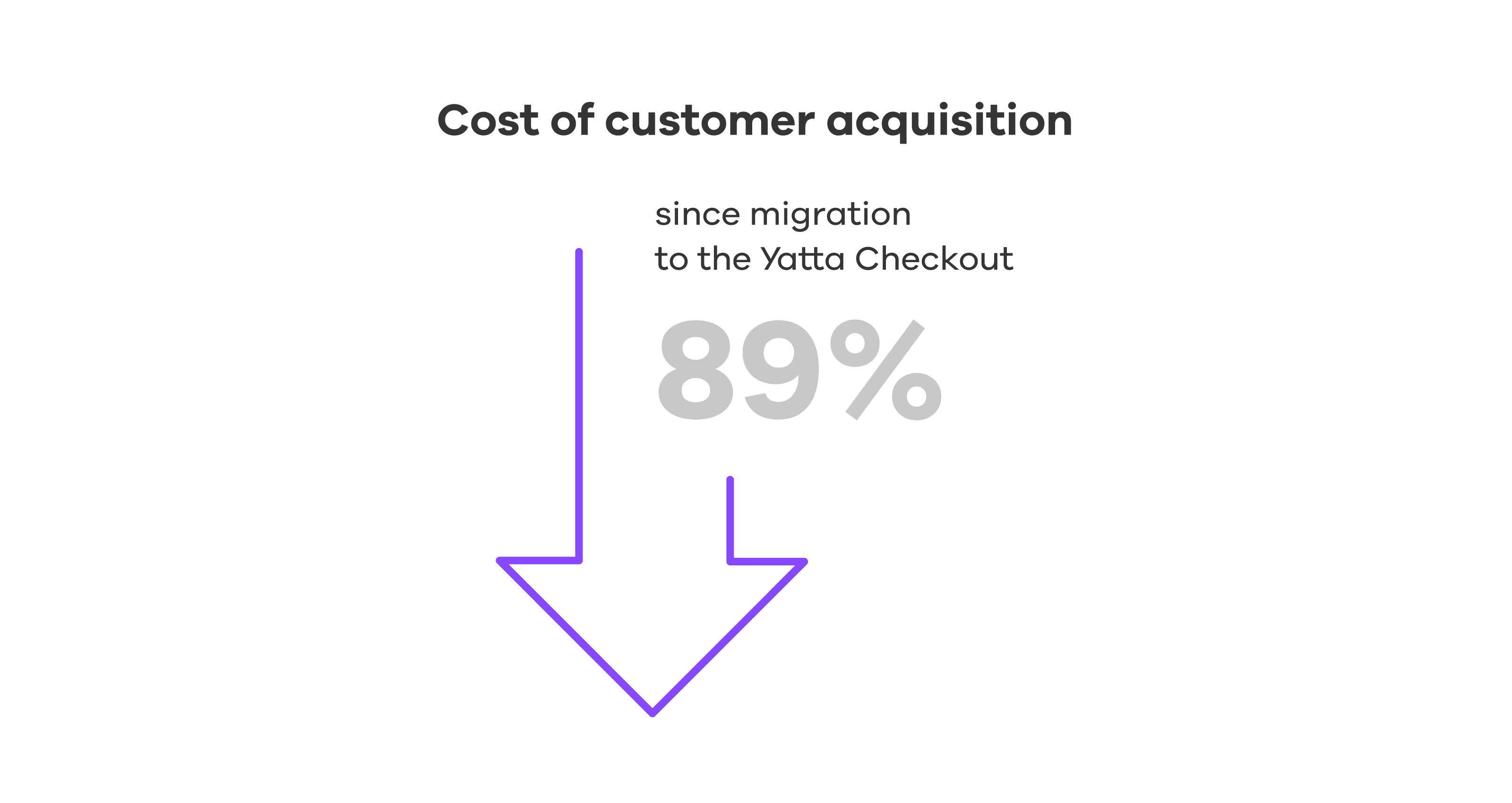 Summary
In summary, Yatta Checkout:
Increased our conversion rate by 12.7x from 0.3% to 3.81%

Increased sales revenues by 10.6x

Lowered our CAC by providing a seamless and efficient sales & purchase experience

Reduced our sales, payment and administration costs—through automation

Massively accelerated our time to market for new products and business models
In total, we have invested a seven-figure sum into the development of Yatta Checkout. To make sure that this would pay off, we always had the goal of using Yatta Checkout not only for UML Lab, but also for any other Yatta product—whether it's a desktop application, a SaaS product, a digital asset or paid content. To ensure flawless migration, we made sure Yatta Checkout supports all standard purchase and subscription models.
That's also how the legal toolbox, license framework, identity and access management are designed—along with our website and product integration. We knew this would accelerate time to market and improve lead generation and sales costs for digital products immensely, enabling us to focus on what we do best: software product development and innovation.
Now, one year later we have decided to share Yatta Checkout with the world: With every software vendor, developer tool builder, SaaS provider, digital product designer and content creator out there. To help teams and companies innovate—and provide users access to the best possible technologies. In B2B and B2B2X.
Are you interested in learning more about Yatta Checkout? Contact us at checkout@yatta.de.